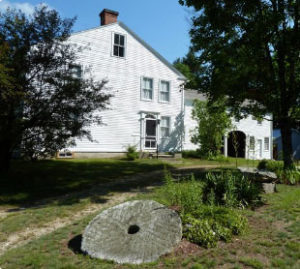 The main museum building, the Whitaker Clary House was purchased from the Massachusetts District Commission (MDC, now DCR Watershed Division) in 1961 for $1.00 plus $35 for processing the deed. The building was available because the MDC had abandoned the plan to destroy all properties on this westerly side of the road. However, it is in the watershed of the Quabbin Reservoir.
The house was built for William Whitaker in 1816 on its current site. 200 years ago, the huge maple tree planted in the front yard was a mere sapling. The curbstones separating lawn from road were floated down the Millers River, probably on rafts, and hauled to the site by oxen.
The second owners of this house, Mr. and Mrs. Edward Clary, purchased it for $2,600. The Whitakers and the Clarys were the only owners and residents of this house. It was considered an elegant home for the times, heated by seven fireplaces built into two enormous chimneys. It was illuminated by lamps and candles. Water for household use had to be hand-carried from a nearby well. Electricity first reached the little village in 1942.
Original wallpaper and stenciling can still be seen, but the entire contents of this house had been sold at auction before the purchase by the historical society. Everything now in the collection has been donated to the museum and came from the Swift River Valley, but is not original to the house. The artifacts date from 1750 when the towns were being established to 1938, the year they ceased to exist by an act of the Massachusetts legislature.