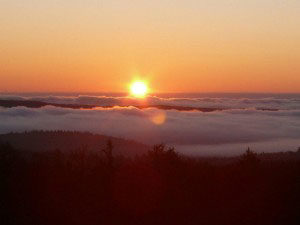 Friends of the Quabbin
The Friends of Quabbin, Inc., was formed in 1984 as a non-profit volunteer organization dedicated to increasing public awareness and appreciation of the unique natural and historical resources of the Quabbin Reservoir and Reservation. The FOQ hosts a wide range of information on the Swift River Valley, Quabbin Reservoir, and much more.
North Quabbin Woods
The New England Forestry Foundation is dedicated to providing for the conservation and ecologically sound management of privately owned forest lands in New England, throughout the Americas, and beyond. Their website has resources for enjoying the nearby area and visiting Quabbin sites.
Mass DCR
Massachusetts Depertment of Conservation and Recreation is the custodians of the Quabbin Reservoir.
MWRA
Massachusetts Water Resources Authority, the public authority tasked with providing water (via the Quabbin and Wachusett reservoirs) and sewer services to 2.5 million people and more.
Photo Credit: New Salem Lookout, courtesy of Dale Monette, DCR Vistitor Center